| | |
| --- | --- |
| | This page has been featured by the SBFW community. |
Approved by SBCA

Basket Sponge has been liked and approved by the Master Bureaucrat and the SBFW Discord King, SBCA, one of the greatest users on the great SBFW.

Matchy Approved This Here Article

This very article has been liked and approved by Matchy, a random guy on the internet who probably has no life.

Approved by The Imperial Ghost

Basket Sponge has been liked and approved by the time and space traveller, The Imperial Ghost, one of the older and more experinced users on this wiki.

Golfpecks approves!

Basket Sponge has been liked and approved by Golfpecks256, the great user of this great wiki.

Approved by SeemsGood

SeemsGood thinks this article is kewl as frick.

Critically Acclaimed

Basket Sponge is astounding, the top critic Gene Scallop, wrote it to be so.

JackHackers Approved (The OG Approval Template)

This article is liked by one of the most well-known users here, JackHackers. If this article is marked with this very template, It's one hell of an article. Also this is the first approval template in recent history and the one that started the trend.

this is awesome

Basket Sponge has been approved by PrimitiveSponge129, so that means it is probably one of the best pages on this entire wiki, or even FANDOM itself.

The Black Duck Approves

Basket Sponge has been approved by Jasbre, your favorite black duck.

You did it!

This article is approved by Purple133, meaning that you haven't failed as a human being!

Boom, Nice.

This article has been approved by AceBlueWolfe aka ArcticSquid, who is the ultimate JaidenAnimations fan!

Sanic was here

Basket Sponge has been liked and approved by Sanic. That means it's probably a good page.

Rated B - Ages 7 and up

This article is rated B, meaning it contains content that may be inappropriate for users the age of 7 and under.

Basket Sponge is a SpongeBob SquarePants spinoff created by Doctor Bugs, SBCA, and The Imperial Ghost. The show was created on Christmas Day, 2014 and first aired on New Year's Day, 2015.
Synopsis
Season 1-2
The Bikini Bottom Bulldogs are training for their basketball season with a little help from Coach LeBron James while battling their rival team, The Toon Tomahawks, both on the court and off. With enough training, enough skill, and enough heart, the Bulldogs might just land a perfect season!
Season 4
TBA.
Crew
Main
Minor
One-Time
Characters
Main Characters
Other Characters
Series Overview
List of Episodes
Ratings
Viewers (Millions)
Seasons
LTV
TIG
SN
JTV
BS
STV
1
11.83
8.06
1.17
10.34
2.79
5.72
2
10.71
8.21
1.25
10.76
1.98
7.92
3
7.36
7.58
0.83
6.97
0.94
6.38
4
10.93
9.63
N/A
14.21
3.71
9.32
Notes
Sci Brands Productions and SpongeyNetwork were shut down before Season 4 was greenlit by LTV.
The Imperial Ghost / TIG was shut down in the middle of airing Season 4, which is why there are no ratings for the rest of the show.
SpongeTV was created for SpongeBob Fanon, yet it airs reruns of this series, since April 2018.
List of Shorts
A series of shorts were also created to sporadically air throughout the series. These shorts do not necessarily pertain to basketball, or the Basket Sponge storyline in any specific way. Some specified shorts may, however.
Episodes
Season 1
Title Card
No.
Title
Airdate

1

"A Legend Begins"
January 1, 2015
When LeBron James is involved in a boating accident, he finds himself in the land of Bikini Bottom. Soon, he finds himself the new coach of the Bikini Bottom Bulldogs. And he's got a lot of work to do!

2

"Practice Makes Perfect"
January 3, 2015
Squidward refuses to show up to any of the basketball practices. When SpongeBob finally drags Squidward to one of the practices, LeBron has a talk with Squidward to help motivate him in the future. Overly motivated, Squidward goes on a crazy-eyed, psychotic rampage of motivation.

3

"The Shoes of Jordan"
January 3, 2015
Frustrated that he isn't doing well at basketball practice, SpongeBob becomes hopeless. So LeBron gives SpongeBob a pair of lucky basketball shoes, which were Michael Jordan's very first pair of basketball shoes.

4

"Prisoners of The Match"
January 4, 2015
To get ready for the upcoming season, the Bikini Bottom Bulldogs have a scrimmage against some guys in the street, but they can't win.

5

"The Beginning of a New Era"
January 6, 2015
Journalist Luis Antonio decides to interview LeBron James before the Bikini Bottom Bulldogs' first game. LeBron lies to Luis in the interview that his team is amazing and will destroy The Toon Tomahawks. Looking for a good story, Luis comes to the Bulldogs vs Tomahawks game. Can the team live up to their word?

6

"The New Member"
January 10, 2015
A new member joins the Bikini Bottom Bulldogs, and she happens to be Sandy Cheeks! But can she prove herself worthy in the team's second game? Or will they get crushed?

7

"Betrayal"
January 10, 2015
LeBron kicks Sandy off the team, after losing their previous match. Sandy then secretly joins The Toon Tomahawks, and plays against her former teammates in the next game.

8

"Leaked Footage Reel"
January 11, 2015
The Toon Tomahawks catch some footage of the players failing at training and show it to Luis Antonio. The next day, the footage is shown to every TV sports station. Can the Bikini Bottom Bulldogs show everyone that the footage is wrong?

9

"Blue Balls"
January 14, 2015
SpongeBob wants to break the record for the most combo's ever attempted. But the ticking clock in the 4th quarter is pushing him for time to break it! Will he do it in time?

10

"Part of the Team"
January 16, 2015
The Bikini Bottom Bulldogs are recruiting a new member. Who could he be?

11

"When Commitments Conflict"
January 18, 2015
When the Cleveland Caviliers basketball season begins, LeBron knows he must go back home to Cleveland. But he must make a tough decision: Stay with the Bikini Bottom Bulldogs, or return to the place he calls home. Will he abandon his team?

12

"Reborn Nights"
January 19, 2015
Woken up in the night, SpongeBob is being asked to help two people in search of a home. The problem is the two people are Adam 'The Ghost' Smith & Venice Kuropato. With the new basketball gym that SpongeBob has built, He thinks that he can beat them with no one else to accompany him, Adam and Venice may teach him wrong.

13

"Cheerleaders"
January 24, 2015
Patrick has an affair with several cheerleaders from several different teams. It gets to be so bad, he has a girlfriend at almost every team they play. Eventually, all his cheerleader girlfriends gang up on him, and attempt to destroy him with nuclear weapons and machine guns. Can Patrick fix the mess he's made?

14

"The Parting Of The Ways"
January 25, 2015
Squidward and Sandy, two forbidden lovers from opposite teams, must keep their romance a secret. But when their arch-enemy coaches find out about their secret dating, Squdiward and Sandy run away together. What is to become of their love?

15

"Approaching Storm"
February 1, 2015
A raping thunderstorm keeps the Bulldogs trapped in their gym overnight; The Toon Tomahawks recruit a new player, Venice's brother Ash Kuropato. But they don't believe they can trust him...after discovering his secret.

16

"Fundraiser Scrimmage"
February 2, 2015
LeBron is informed by the POBA that Larry's contract is about to expire and the only way to extend it is to pay a large amount of money, so Mr. Krabs suggests that they have a scrimmage as a fundraiser. But when the Toon Tomahawks hear about this, they devise a plan to stop them from doing this. Even through that, will they be able to raise enough money to save Larry from being removed from the team?

17

"Substitute Coach"
February 8, 2015
When SpongeBob accidentally injures LeBron, the team holds auditions for a temporary new coach.

18

"Teamwork"
February 15, 2015
LeBron wants Mr. Krabs and Plankton to overcome their differences in order to work better on the court.

19

"Failure is Not An Option"
February 22, 2015
In the final league game of the season, the team must win in order to make it to the tournament. But with a sprained wrist, Squidward refuses to leave his home. Can SpongeBob and Patrick persuade him to come to the game by invading his house? Or will they just cause more problems for Squiddy?

20

"Climatic Conditioning"
March 29, 2015
SpongeBob feels he isn't "man" enough to face the upcoming basketball tournament. To prepare himself for the challenges ahead, SpongeBob sets off to train at the dangerous Death Peak.

21

"Tournament Terror"
April 16, 2015
The POBA basketball tournament has arrived, and the Bulldogs are ready to compete! Or....are they? Despite the terrors that lie ahead, the team is prepared to face a not-so-deserving opponent....
Season 2
Title Card
No.
Title
Airdate

1

"Army Of Ghosts"
May 18, 2015
Ash is thrown off the Tomahawks because Adam wants to change the team around. Frustrated, Ash (in a maybe disclosed drunken rage) starts his own team to battle his old mentor and his undisclosed friend to end it all.

2

"It's Saturday Night and We in the Spot"
May 25, 2015
It's the POBA All-Star Saturday and the Bulldogs' top players are chosen to compete in the challenges. But their rival, the Tomahawks have something in store.

3

"Skills and Thrills"
May 27, 2015
It's showtime and the Bulldogs put their skills to the test. But will they be able to beat the rest?

4

"The Bulldogs Training Video"
May 28, 2015
Between the break of the end of the tournament and The Ghastly Operators beginning. The Bulldogs filmed a highly confidential never seen before video.

5

"Why, Social Media?"
May 29, 2015
An unknown Anti-Bikini Bottom Bulldogs group sets up multiple social media accounts to ruin the reputation of our beloved Bulldogs.

6

"The Team That Never Sleeps"
May 30, 2015
LeBron gets a message from Adam Smith to go over to New York, The problem is that the The New York Knicks and [Fisher] are going to war with a battle in the headlines and if he's done a match with Shaq and even Kobe Bryant! I think it's time Jamie relized that the smallest of teams can be big.

7

"New Jerseys"
May 31, 2015
LeBron orders new uniforms for the team. But they are ugly, itchy, and all-out horrible, so the team goes on strike until LeBron changes his mind.

8

"Team Plankton"
June 1, 2015
Tired of being the "little guy" on the team who gets pushed around, Plankton creates a machine which makes him big and strong, and then clones multiple copies of himself, kicking his friends off the team.

9

"Two Squids and a Squirrel"
June 2, 2015
Squidward is finally recovering from his break up with Sandy, and has decided to start dating again. SpongeBob sets him up on a dating website, and he meets a nice girl squid named Squilvia. On his first date with Squilvia, he runs into Sandy who has dumped Squilliam, and wants to get back together with Squidward.

10

"Underwater Goodbye"
June 3, 2015
LeBron is forced to leave Bikini Bottom when the media discovers where he's been hiding.

11

"Suicide King"
June 4, 2015
After LeBron is captured and taken away (in the previous episode), the team travels to the surface to get their coach back!

12

"The Power of Love"
June 5, 2015
This is a story about a couple, who are strange in they don't truly fit together as a couple, this is the story about Adam and Venice.

13

"Rubix Cubes"
June 9, 2015
Two nerds, Edison and Philbert, move to Bikini Bottom in hopes to become the janitors at the Bulldogs' gym.

14

"A Glimpse of the Future"
June 11, 2015
A gypsie gives LeBron a tour into a five year future state where his team starts to fall apart.

15

"Cinco De Mayo"
June 12, 2015
The team falls in love with a new taco joint downtown, but Mr. Krabs is jealous of the business.

16

"Gluteus Maximus"
June 13, 2015
SpongeBob enters Gary into the Bikini Bottom Flexing Competition, pitted against Larry the Lobster, champion of 10 years.

17

"Fancy Footwork"
June 14, 2015
Squidward discovers he is really good at soccer, and is offered a high-paying job at Bikini Bottom's soccer team. Now he is faced with a serious choice.

18

"An Ultimate Return"
June 16, 2015
A old foe returns for trouble. Only he is more advanced and has got them done for. ONE STEP AHEAD!

19

"Of Gods and Mortals"
June 21, 2015
Prince Triton hears about the team and would like a royal match. Except the team was NEVER trained for immortals!

20

"Who's the MVP?"
June 24, 2015
Larry wants to win "Most Valuable Player" at the team's award ceremony, but Lexi thinks she can beat him; Justin Hunt revives Edison and Philbert to sabotage the award ceremony.

21

"A Completely New Man"
June 25, 2015
The team sees that LeBron has suddenly changed one day. He gives them new rules and regulations to go by, but as this keeps going on, the team gets more and more lazy and rebellious. So LeBron gives them a punishment of no more basketball matches until they can learn to show some respect and motivation.

22

"Problems With Plastic"
July 26, 2015
Lexi comforts Patrick when Kevin, his favorite manakin head, is destroyed.

23

"Date Night"
September 25, 2015
Mr. Krabs forces Larry to take Pearl (his lonely, unappealing daughter) on a romantic date. Larry is both reluctant and nervous about this, so the team gives him advice on romance, but can he stay as he is with the advice or crack out.

24

"I ♥ The Bulldogs"
October 4, 2015
One of Adam's overwater girlfriends becomes a fan girl of the Bikini Bottom Bulldogs and makes a group that talks about the team online. She begins to visit them at a game and is overly enthusiastic and perky about them.

25

"The Wedding of a Lonely Girl"
October 16, 2015
Adam and Venice get married as the whole Bulldogs are invited, the problem is. The whole team get stuck in a whirlwind adventure trying to get into the wedding on time.

26

"Phantom's Uprising"
October 21, 2015
The Big Finale! LeBron finds a mystical ball that transforms him in VERY different ways over emotions. The team see that he changes over time into something as the match between them and the POBA 2K15 Tournament Qualifiers may be the last chance they get. But is this the last hurrah for all of the team?
Season 3
Title Card
No.
Title
Airdate

1

"Returning Point"
October 28, 2015
After LeBron leaves the team disbanded for the Space Jam sequel, he tries to get the team all back together again, but after six months, they may not agree on that for a yes answer.

2

"Haunted Balls"
October 31, 2015
The team visit LeBron as they get him to go to a Haunted Mansion! But what lies inside of this place to spook the living daylights out of all of them.

3

"The Long Game"
November 19, 2015
Welcome to the fiftieth episode of Basket Sponge, in this episode! Justin Hunt returns to torment LeBron, LeBron endures the team onto a 23 hour practice to end up in the World Records, Plankton steals the Krabby Patty formula for once and for all and Lexi ends up shapeshifting to get out of the madness. Yeah, welcome to THE LONG GAME.'

4

"The New Member(s)"
November 28, 2015
Lexi leaves due to the boredom of the team and LeBron introduces three new people into the team and wait, haven't we done this thing before? Like two seasons ago?

5

"LeBron Begins"
November 29, 2015
LeBron has nightmares and can't seem to focus. But it all depends on one yellow sponge and his own vast knowledge with trying to help him. But it seems a little off character, don't you think.

6

"Person-ality"
December 6, 2015
It's near Christmas and something's gone wrong with the happy go lucky team, can we fix it? I bet we can!

7

""All of Time and Space""
December 12, 2015
LeBron goes on a trip to a certain box, but no idiots are in the box playing with a tape recorder. (Well, I hope.)

8

"Metal Gear Basketball"
December 21, 2015
LeBron makes it to Shadow Moses, the location of a mechanical being named "Metal Gear REX" and it is ready to launch, but who is the real culprit behind the plan.

9

"Dead Sunsets"
December 29, 2015
LeBron has a repeat of Reborn Nights as Justin and Lexi burst into the house, as they annoy him before they tell him to choose a choice for the future.

10

"Never Had A Practice Like This"
January 3, 2016
The basketball finally starts back up as the team endure a week of matches from the other teams. I think it's time to make men out of them.

11

"Face The Praise"
January 7, 2016
As the matches of the tournament go on, Patrick invents the first and only livestream and LeBron starts to lose hope of the team. Will he face the praise that the team are getting or is his head screwed on backwards?

12

""Trapped From Heaven.""
January 8, 2016
In the episode, LeBron has been teleported to a strange waterlocked castle, and is there pursued by a shrouded creature that is trying to kill him.

13

"The End of Time"
January 13, 2016
What will entail for the team in their final adventure?
Season 4
This is the first season of the show to be produced in Widescreen HD and is also the longest season, lasting two years over numerous production and staff problems.
Title Card
No.
Title
Airdate

1 - 2

"Just Another Gold Medal"
January 6, 2017 (Part 1)
January 16, 2017 (Part 2)
After LeBron's death, everyone is underwhelmed to find someone that is eager to replace him in the role. But, who is it?

3

"Scrimmage Night"
February 13, 2017
To get hyped for the new season, the team goes out to get ready. But when they're challenged by a new team on the block, they've got to get on their A game.

4

"Basket Grunge"
April 9, 2017
SpongeBob and Larry get new glasses when a doctor prescribes them with bad eyesight, and now have to adjust to the new challenges given to them.

5

"Tomorrow is the Day I Die"
April 11, 2017
Following his allergic reaction incident, Patrick is out ill for a few days. A new James Bond-like character then has to fill in for him.

6

"The Krusty Krushers"
April 16, 2017
Mr. Krabs is kicked off the team, and is pissed off about it. He then forms a new team, sponsored by the Krusty Krab.

7

"Warriors and Legends"
April 22, 2017
The team get an email from the POBA, they have to meet up with two more teams before the big games start up soon.

8

"Dare Force"
May 5, 2017
While on the way to their first tournament, the team dares each other to death defying things, and it almost brings the plane down!

9

"Let the Games Begin!"
May 5, 2017
It's the first game since 2015, and Kobe is very nervous about the crew's performance.

10

"As the Tide Turns"
October 30, 2017
The second game of the tournament, and Mark Cuban wants to buy the Bulldogs from Kobe!

11

"Return of the Tomahawks"
October 30, 2017
The third game of the tournament, and a couple of people having their first match are going to be up scaled when the Tomahawks arrive.

12

"The Eleventh Hour"
December 14, 2017
As the fourth game is drawing near, Squidward informs everyone about the rumor of "The Eleventh Hour".

13

"The Klaw"
January 11, 2018
The Bulldogs are losing this game, so Mr. Krabs brings in some members from the disbanded Krusty Krushers team!

14

"The New Tomahawks"
January 18, 2018
As the Bulldogs ready for their 6th game in the tournament, they go up against the Toon Tomahawks and they have seemed to re-grouped their team with a stronger coach!

15

"Enter the Playoffs"
July 14, 2019
As the Bulldogs enter the playoffs, they face a tough matchup in the likes of the Manchester Mermen. Their inside-heavy defense will prove tough to an inside-reliant Bulldogs team.

16

"A Blast from Beyond the Past"
October 18, 2019
The Bulldogs follow up their last game with a trip to another city against the Harlem Globetrotters, and man is it a joke!

17

"Music Festival"
October 31, 2019
It's music time. The team decide that before the going gets tough, that they should relax and share the life of the party. Only will that be true or will bad luck succumb to them yet again?.

18

"Pain and Determination"
November 22, 2019
The heat of the final games of the season starts with the Bulldogs versus The Denver Dolphins in the semi-finals. With the possibility of the team failing to get another season win, will it be all over for the team?

19

"The Promising Payoff"
TBC 2020
A continuation of the last episode and with time running out for the team, will this be the last chance that the Bulldogs can win for the team?

20

"A Legend Concludes"
TBC 2020
The very last episode of the show. It's time to go high or go home, but what will the Bulldogs choose when everything comes to it's likely conclusion.
Shorts
Season 1
Title Card
No.
Title
Airdate

1

"Krusty Komplaints"
February 4, 2015
LeBron applies for a job at the Krusty Krab.

2

"Beach Brawl"
February 8, 2015
On the beach, SpongeBob accidentally challenges Larry to a fight in front of everyone.

3

"Theater Thugs"
February 17, 2015
When LeBron takes the team to the movie theater to see The Mermaid Man and Barnacle Boy Movie, they run across some real-life danger.

4

"Goodbye NBA, Hello PBA!"
February 18, 2015
What happens after Luis is mailed by Larry to Cleveland? He tells his story through a video call to Bikini Bottom.

5

"Basketball Barrage"
February 19, 2015
It has been found out that LeBron has been living in Bikini Bottom and is approached by a barrage of NBA stars who want him back.

6

"Riding the Rails"
February 22, 2015
Mr. Krabs learns life as a hobo from Special Steve.

7

"Snow Shovelers"
March 5, 2015
After a blizzard in Bikini Bottom, SpongeBob and Patrick are recruited to shovel the snow.

8

"A Chat With Nash"
March 24, 2015
After Steve Nash announced his retirement, LeBron sets him and the Basket Sponge cast up for a Q&A (and one more thing.)

9

"Gary Adventures"
March 24, 2015
After scientists run tests on him in a lab, Gary is now able to walk and talk. Becoming quite athletic, he steals Larry's position as the team's point guard. Angered, Larry devises an evil scheme to get his old job back.

10

"Squid Sitting"
March 29, 2015
When Squidward is turned into a baby, it is up to SpongeBob and Patrick to raise him.

11

"Original Origins: Adam & Venice (Part 1)"
April 1, 2015
Part 1/2 of a two sided origin story, the short is all about Adam with his rise from a need for speed to basketball beginnings.
Season 2
Title Card
No.
Title
Airdate

1

"Original Origins: Adam & Venice (Part 2)"
May 4, 2015
Part 2/2 of a two sided origin story, Venice gets her story told from her skateboarding failures to blue basketballs.

2

"Point Guard Patrick"
June 6, 2015
After Larry loses a bet to Patrick, Patrick becomes the team's new point guard.

3

"Batteries Not Included"
June 7, 2015
LeBron replaces his team with a bunch of robots.

4

"Six Pack Challenge"
June 7, 2015
The team competes to see who can get a six pack first.

5

"Jellyfish Fantasies"
June 14, 2015
In Jellyfish Fields, SpongeBob is captured by the King Jellyfish and brought the magical secret world of jellyfish.

6

"Breaking the Fourth Wall"
June 16, 2015
The team discusses all the times they have broken the fourth wall.
Season 3
Title Card
No.
Title
Airdate

[[Image:|95px]]

1

"'Girls Night Out'"
December 6, 2015
A deleted compl. scene from the episode Person-ality. Well, I didn't write it. But fixed it up.

[[Image:|95px]]

2

""Typing on the Chat Lines""
January 24, 2016
A chatroom near Christmas for the team. Only Patrick think it's part of the Bronie Newtork, it's not.

[[Image:|95px]]

3

"Whatever Happened to Hannah and Serleen?"
January 24, 2016
What ever happened to this two characters during Season 3, well this short will!

[[Image:|95px]]

4

"Ode to Everyone"
February 18, 2016
The cast and crew are brought into put their final thoughts of the series (and the creators)!
Season 4
Title Card
No.
Title
Airdate

1

"The Way We Were"
October 21, 2019
After battling the Manchester Mermen. SpongeBob, Patrick and Lexi stay back in the gym to give a bit of a nostalgic tour or so they think on the memories they've shared over their time together.
Bulldogs' League Games and Results
First Season Games
Final Standing: 13 Wins - 6 Losses
Tournament Won
No. 1 Bikini Bottom Bulldogs vs The Toon Tomahawks - Lost
No. 2 Bikini Bottom Bulldogs vs The Sperm Whales - Lost
No. 3 Bikini Bottom Bulldogs vs The Toon Tomahawks - Won
No. 4 Bikini Bottom Bulldogs vs The Sting Rays - Won
No. 5 Bikini Bottom Bulldogs vs The Coral Clammers - Won
No. 6 Bikini Bottom Bulldogs vs The Daisy Town Dandelions - Lost
No. 7 Bikini Bottom Bulldogs vs New Community Patriots - Lost
No. 8 Bikini Bottom Bulldogs vs The Sperm Whales - Lost
No. 9 Bikini Bottom Bulldogs vs Rock Bottom Racketeers - Won
No. 10 Bikini Bottom Bulldogs vs The Toon Tomahawks - Won
No. 11 Bikini Bottom Bulldogs vs Seatown Strikers - Won
No. 12 Bikini Bottom Bulldogs vs Bosstown Bone-Crushers - Won
No. 13 Bikini Bottom Bulldogs vs The Mayan Mermen - Won
No. 14 Bikini Bottom Bulldogs vs Funktown Fungus - Won
No. 15 Bikini Bottom Bulldogs vs Darktown Killers - Won
No. 16 Bikini Bottom Bulldogs vs Barrier Reef Barnacles - Won
No. 17 Bikini Bottom Bulldogs vs The Daisy Town Dandelions - Lost
No. 18 Bikini Bottom Bulldogs vs Seatown Strikers - Won
No. 19 Bikini Bottom Bulldogs vs The Toon Tomahawks - Draw (at first), later revealed as Won
Second Season Games
Final Standing: 4 Wins - 9 Losses
Tournament Lost
No. 1 Bikini Bottom Bulldogs vs The Toon Tomahawks vs The Ghastly Operators - Won
No. 2 Bikini Bottom Bulldogs vs The New York Knicks - Lost
No. 3 Bikini Bottom Bulldogs vs Seatown Strikers - Lost
No. 4 Bikini Bottom Bulldogs vs Corral Clammers - Lost
No. 5 Bikini Bottom Bulldogs vs Bosstown Bone-Crushers - Lost
No. 6 Bikini Bottom Bulldogs vs The Daisy Town Dandelions - Won
No. 7 Bikini Bottom Bulldogs vs The Sting Rays - Draw
No. 8 Bikini Bottom Bulldogs vs The Sperm Whales - Lost
No. 9 Bikini Bottom Bulldogs vs Barrier Reef Barnacles - Lost
No. 10 Bikini Bottom Bulldogs vs The Mayan Mermen - Won
No. 11 Bikini Bottom Bulldogs vs Funktown Fungus - Lost
No. 12 Bikini Bottom Bulldogs vs Barrier Reef Barnacles - Lost
No. 13 Bikini Bottom Bulldogs vs New Community Patriots - Won
No. 14 Bikini Bottom Bulldogs vs The Royals - Lost
Third Season Games
Final Standing:? Wins=? Losses
Tournament ?
Fourth Season Games
Final Pre-Season Standing: 2 Wins - 0 Losses
Pre-Season Tournament Won
No. 1 Bikini Bottom Bulldogs vs Cebu Elites (135-69) - Won
No. 2 Bikini Bottom Bulldogs vs Krusty Krushers (52-51) - Won
Final Regular Season Standing: 5 Wins - 3 Losses
No. 1 Bikini Bottom Bulldogs vs New Kelp Warriors (70-71)  - Lost
No. 2 Bikini Bottom Bulldogs vs Cebu Elites (N/A)
No. 3 Bikini Bottom Bulldogs vs Last Generation Legends (66-2) - Won
No. 4 Bikini Bottom Bulldogs vs The Unknowns (22-20) - Won
No. 5 Bikini Bottom Bulldogs vs Daisy Town Dandelions - Lost
No. 6 Bikini Bottom Bulldogs vs Toon Tomahawks (39-41) - Lost
Playoffs Standing: 2 Wins - 0 Losses
No. 1 Bikini Bottom Bulldogs vs Manchester Mermen (80-79)  - Won
No. 2 Bikini Bottom Bulldogs vs the Harlem Globetrotters (75-49) - Won
Shipping
The "Squandy" relationship is the biggest ship in the series. The ship is quite prevalent in Doctor Bugs' other work, such as Reckless and Retired. When Sandy first joined the team in "The New Member", Squidward showed immediate attraction to her, and she appeared to return it. In "Betrayal", it is revealed they have deep, intimate feelings for eachother, despite Sandy's evil side with The Toon Tomahawks. They are hince forbidden to date, but are caught making out in "When Commitments Conflict", at SpongeBob's party. They're revealed to be secretly dating in "The Parting Of The Ways", but are caught, and forced to run away together. Shortly after checking into the Fancyson Hotel, Squidward finds Sandy is cheating on him with Squilliam Fancyson. Squidward is heartbroken, and he breaks up with Sandy instantly. Despite being with Squilliam, Sandy appears to want Squidward more. They are quite awkward around eachother. Also, she doesn't seem to enjoy being with Squilliam. In "Fundraiser Scrimmage", when the Bulldogs scrimmage against the Tomahawks, Squidward tries to show off to get Sandy back, but she rejects him and continues with Squilliam. However, in "Tournament Terror", Sandy breaks up with Squilliam, and expresses she wants to get back together with Squidward.
In Season 2, her and Squidward get back together in "Two Squids and a Squirrel".
"Squindy" is considered the foil for "Squandy". Squilliam stole Squidward's girl in "The Parting Of The Ways", as he joined the Tomahawks and began dating her. She appeared to really like him, especially in "Fundraiser Scrimmage". However, in "Tournament Terror", she dumps him, realizing she really wants Squidward. She and Squidward did not yet get back together, though.
"Vadam" is a secondary ship in Basket Sponge. It is unknown if Adam and Venice are actually together. But is speculated they are dating. In the first season, Adam has a sexy, cocky manner that portrays to Venice's fantasies especially in episodes like "Reborn Nights" and "Tournament Terror". She seems wildly attracted to him, while he normally rejects her.
Venice forcefully kisses Adam in "It's Saturday Night and We in the Spot", and he is absolutely blown away and pleased. They enter a dating relationship in "The Power of Love".
"Pexi" is a newer ship in the series. After Lexi joined the team in "Army Of Ghosts", she reappeared in "New Jerseys", showing a massive crush on Patrick, even trying to seduce him. They begin dating at the end of the episode. They are shown to still be dating in "Team Plankton". They appear to have the same dim-witted, happy-go-lucky personality, making them a perfect match. They are still shown dating in episodes such as "Two Squids and a Squirrel","Underwater Goodbye", and "Suicide King", often flirting and making out.
"Kruff" is a minor ship in the series, first appearing in "When Commitments Conflict" when Mr. Krabs and Mrs. Puff are spotted making out at SpongeBob's party. Krabs mentions Mrs. Puff in "Teamwork", calling her his girlfriend.
"Parry" is the name for the minor ship between Larry the Lobster and Pearl Krabs. Pearl is shown to have a MAJOR crush on Larry, in multiple episodes, such as "Fundraiser Scrimmage". Larry seems a bit amused by this, and often tries to show off and flex his muscles. As of now, Larry does not return any feelings for Pearl.
DVDs
DVD boxsets were released around a fortnight after each halfway episode in the season of Basket Sponge in Region 1, with Region 2 about 2 months after Region 1, and Region 3 has now been confirmed by LTV Southeast Asia and will be released 1 month after Region 1.
Boxset

DVD release date

Blu-Ray release date

Region 1

Region 2

Region 3

Region A

Region B

January 28, 2015

March 14, 2015

February 21, 2015

N/A

N/A

March 26, 2015

May 20, 2015

April 21, 2015

N/A

N/A

May 2, 2015

June 16, 2015

June 27, 2015

N/A

N/A

October 23, 2015

November 7, 2015

November 10, 2015

N/A

N/A

January 19, 2016

February 13, 2016

February 19, 2016

June 4, 2017

June 29, 2017

TBD

TBD

TBD

TBD

TBD
Video Games
Main articles:
POBA 2K15, POBA 2K16, POBA 2K17, POBA 2K18, and POBA 2K19
A video game franchise was created by SBCA based on the Basket Sponge series entitled POBA 2K, a basketball simulation video game franchise developed by and published by LTV iLaro! and 2K Sports. It currently has three installments in the series, namely 2K15, 2K17, 2K18, and 2K19 developed and published on 2015, 2016, 2017, and 2018, respectively.
History and Development
Conceptualization and Creation (2014)
On December 25, 2014, Christmas Day, Doctor Bugs was talking about sports in the wiki chat, and found that all 3 users on the chat all played basketball: SBCA, The Imperial Ghost, and himself. After that, they joked about a SpongeBob spin-off involving basketball. Ghastly even jokingly named it "Basket Sponge". Doctor Bugs had previously thought of the exact same name. Soon they realized the three had a good idea on their hands. Doctor Bugs created a page for Basket Sponge, and production began instantly.
First Season and Rise in Popularity (2015)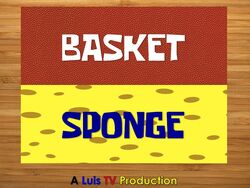 The first episode aired on the first of January, New Year's Day 2015. Since then, the spin-off gained huge popularity. Praised by critics and readers alike. A second season was already announced and was said to have 18 or more episodes. On the 16th of April, the first season drew to a close with the special
Tournament Terror
, that was written by
Doctor Bugs
wrote most of the special, gave
SBCA
to originally finish "as soon as possible" but was told unlucky as
SBCA
would not be able to finish it. Thus 
The Imperial Ghost
, the only remaining writer, asked if he could finish it, which
SBCA
accepted and gave 
The Imperial Ghost
the episode to finish which took him around a couple of hours to finish plus a few minutes from April 15th he used. The episode was then given good reception from fans saying that the special brought the series to a close in the same exact way as when the series started.
Second Season and Departure of Doctor Bugs and SBCA (2015)
Production had begun on Season 2 way back in March when The Imperial Ghost wrote his first episode of the season between the wait of Failure is Not An Option and Climatic Conditioning which boasted a month hiatus between episodes which was longer than any production of any episode before that which was between a couple of days to ten. The series went on and maintained a stable amount of popularity between the next two seasons. However, with Doctor Bugs' unannounced departure in late 2015 and SBCA's leave of absence in late 2015 as well, The Imperial Ghost was the lone writer for the last half of the second season and third season. This started worries amongst the community in what would happen now that only one of the creators was working on it.
Third Season, Departure of The Imperial Ghost and First Cancellation (2015-2016)
With the departure of both of the original creators, The Imperial Ghost now had the duty of making a third season to counter the reception of the second series. To also not endure some pain with the long second season (that had the potential of 30 episodes but was cut down to 26), The Imperial Ghost decided to cut in half the usual American 20-30 to a traditional British 13. This would help on how the series was done. To also help on the series, The Imperial Ghost got JamesAdventures who co-wrote The Bulldogs Training Video, which was disliked by Doctor Bugs, with him at the time. He gave him another chance as JamesAdventures put out Person-ality and "All of Time and Space", which were definite improvements on his previous work.
But as the season progressed, it was becoming less likely that the fourth season would become a reality to the fans as quietly, behind the scenes for The Imperial Ghost running the show himself; it was looking like the show would 'jump the shark' and become less of a basketball-show and more of a any genre with basketball-show. So, on December 19, 2015, The Imperial Ghost decided to end off the show with the ending being that LeBron killing himself and ending the show with it. This was still being kept during the making of the rest of the episodes with the death being changed from a shotgun to a pill because of the overuse of shotgun deaths during the season.
So, on January 13th of the new year, (marking a late one year anniversary to the show) the show ended with it's big finale; The End of Time, and killed off LeBron. But, The Imperial Ghost went on to become an administrator, for a short while as he created different idiocies to everyone else on the wiki and left because of the "horror" of him as an administrator.
Thus, the show had concluded, for a short period of time.
Revival (2017-2018)
During the later half of 2016, SBCA and The Imperial Ghost announced via blog that a fourth season would possibly be made in late 2016 and made a 'sort-of, in-case' revival document of the first episode of an upcoming fourth season to be made during the end of the year, in which that got delayed into the early part of 2017. But because he was getting bored, The Imperial Ghost left after his 17th birthday and the show was left to SBCA. He then hired TheJasbre202 who helped in recruiting a few others (Rocky Lobster and ChocolateBrownieBoy) who helped with the show, though never amounted to much. In mid-March when The Imperial Ghost decided to return. He ran the show back up during the Easter period.
On April 20th, 2017, an 'old user' returned in the form of a guy on Skype called Doctor Bugs. He 'helped' by contributing the story and title of Warriors and Legends to The Imperial Ghost, but he revealed himself on April 28th, leading to his removal of being a fake user trying to be another one. Within his period of being in the Skype group, he enforced the removal of ChocolateBrownieBoy from the writing team due to his inactivity.
TheJasbre202 was let go by The Imperial Ghost and SBCA on November 2nd, 2017 due to him overpowering the other two on the series as SBCA only hired him for making title cards and instead led a revival (as a plot guide) that both SBCA and Imperial were not too fond of doing and would have rather stuck to the old ways. However, Imperial has said that the series would continue using the guide up until the end of the fourth season.
In March 2018, Jasbre came back and regrouped with SBCA and The Imperial Ghost to discuss the future of Season 4 and of the series. On May 10th, 2018, it was announced that The Imperial Ghost left the show, with Jasbre taking his duties for the finale of Season 4, and all of Season 5. It was later announced that they have 2 spots open for new experienced writers. The 5th season was renewed on the same day. [1]
Hiatus After Hiatus, then Conclusion (2018-2020)
By the beginning of 2019, the series was left in a hiatus state, with the fact with many of the creators moving on. The hiatus from 2018 to 2019 was the second longest hiatus ever recorded for the series, after the first with the original cancellation. After a brief revival with a unfinished episode being completed. Jasbre revived the series with a new structure as The Imperial Ghost, now named Amanda joined him on the writing team for the season and the next that was beyond at this point.
However, after a slump with other writing jobs taking place. The series became dormant again at the end of 2019, with a promise to have the last two episodes finished before the end of the decade. This didn't happen and the series was abandoned with the retirement of Jasbre and the retirement of Amanda.
The series had finally announced it's ending conclusion to be happening in 2020 on February 15th of the same year. The fifth season was now departed as the last two episodes of Season 4 would be converted into the last two episodes of the show as the series finally ended with A Legend Continues.
Critical Reception
Overview
Basket Sponge has received generally positive reviews from fans and critics. The series gained large popularity in a short frame of time. The first season and a half is often praised for it's comedy, however the second half of the second season and the whole of the third has been criticized for being too dark and not comedic with outlandish stories, the fourth seems to be a back-to basics season but however after the leaving of TheJasbre202 and his team in the early part of the fourth season, the episodes did start going back to the third season quality.
Reviews
"As a creator and owner of this series, I couldn't be prouder of it. The collaboration of myself with SBCA and Ghastlyop has created a masterpiece in my eyes, the wiki will be sure to enjoy. Loaded with both mature and immature jokes, this series is both made to make you laugh and draw suspense! I hope everyone enjoys this series! We've put hard work into it!" - Doctor Bugs
"Being a writer is tiring, especially on Basket Sponge. Coming out of a time when I stopped writing for the wiki after the disappointment of my last written show and a feature film. The show really brought me back my pre disappointment stage. I have enjoyed writing for/with my good friend SBCA and friend/mentor Doctor Bugs. I hope you enjoy the series like I have enjoyed writing for it! - Ghastly
This spinoff is one of the best on the wiki. Not kidding. It's got some of the best jokes ever, so edgy and I love that about it. The story is really good too, it is something my intellect could never think of. Luis is one of my all time favorite characters of ANY show. "Part of the Team" made my day that he would be in more episodes. Overall a REALLY good spin off, of the best on the wiki. 10/10. The bagel to defeat all bagels
Basket Sponge is a good spin off. However, it has some flaws. I mean some episodes are kinda eh (Blue Balls, Reborn Nights and Cheerleaders). Also, the series seems to have a constant focus around the main group of characters. I mean every spin off has to have some change of pace every now and then. But when this spin off does it good, it does it REAL good. Like, REALLY good. Episodes like The Shoes of Jordan, Betrayal and When Commitments Conflict are amazing. This show can do real good, and when it does it's great. But when it doesn't it can be ehh. Overall 7.5/10, a good spin off that can be flawed. --You probably don't know who I am
This spin-off will become one of the stars of the wiki. When I was first introduced to SpongeToons by Luis, it didn't seem like it would become the "Absorbent Days" of the wiki, obviously. But THIS spin-off is really funny. Not just it's edgy-but the edgy jokes are HILARIOUS. The starting episodes were GREAT, however, going into the series, it kinda went down. But after a few episodes, it went back on track! It's a great spin-off overall. Eh, I would give it 9/10! --SquidFan10
This is one of the funniest spin-offs on the wiki. Keep up the good work! <spanstyle="color:#00FF00;">~summer</span> 13:31, March 4, 2015 (UTC)
This is the funniest spin-off ever on this wikia. Tropicaljackson (talk) 14:06, June 4, 2015 (UTC)
Episodes ranged from amazing, hilarious and fun- sometimes stale, boring and cringy... 7.5/10 good spin-off but sometimes goes away from story. SwitchPlanters (talk) 13:49, April 13, 2017 (UTC)
I enjoy the series, Seasons 1-2 are the classics, Season 3 went a bit dark, but only one of the creators was there to supervise it so I understand, and Season 4 is getting back to the basics, not because i'm on it, because all the creators came back to the revival! XD 8.7/10 - TheJasbre202 (M•C•U•E)

Ya'll fam say the comedy here's gold but I don't really see that, also some of the basketball rules here are whack, like in seasons 2-3. Also, put in some Trail Blazers references in there. 7/10 -JailBlazer
7.5/10 - Here we see a creative masterpiece in the world of SpongeBob Fanon Wikia, and this was the first out of many to come, sport-related SpongeBob spin-offs that tried to copy what Basket Sponge had in it's 2-year run. -Gene Scallop
it's cool i guess - Ciciciciciciciicciciciciciicicicicicicicici
8/10 - This series is pretty good. There's no wonder why it is fondly known by many as it was an instant classic. -DontAskWhoJoeIs
Awards
This is to showcase the awards that the series has been nominated for and has won.
Featured Content
Trivia
For the series trivia, please go to the trivia page.
Facebook Page
To promote the spin-off, 
SBCA
 launched a Facebook page. However, as of October 30, 2017, the page has been deleted by Facebook due to inactivity. He has no future plans on reviving it as no further interest has surfaced.
See Also
External Links
References
Community content is available under
CC-BY-SA
unless otherwise noted.