Eugene H. Krabs

Gender
Male
Age
77
Color
Crimson
Hometown
Bikini Bottom
Created
1999
Professional Information
Major
Yes
Signature
Eugene H. Krabs
Friends and Family
Parents
Betsy Krabs
Creator
Stephen Hillenburg
Children
Pearl Krabs
Behind the Scenes
Voiced by
Clancy Brown
Adam Sandler (in the 2013 film)

Eugene Harold Krabs (born November 30, 1942, Age 77) is a main character from SpongeBob SquarePants. He is an extremely greedy crab who likes money and collects them from selling Krabby Patties. He protects his Krabby Patty secret formula from Plankton. He owns the Krusty Krab and pays his employees very cheaply. His first wife was a whale who gave birth to Pearl. His step wife/2nd wife was Bebe Krabs. He divorced her, so he has Natalie as his wife now. There is an episode called Mr. Krabs's Date, but nobody knows if he will marry. He is enemies with Plankton and the Anti-Money Inc.
He was the chairman and wrestler of a company called WWC. He was inducted to the Hall of Fame in 2014. He was a general and Medal of Honor recipient of the
Bikini Bottom
Army.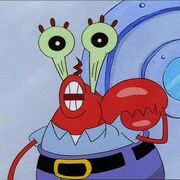 Education
Poseidon Elementary (Kindergarten, Grades 1-6)
Seaweed Jr. High (Grades 7th and half of 8th)
Bikini Bottom Jr. High (Grades 8th and 9th)
Bikini Bottom Senior High School (Now just Bikini Bottom High) (Grades 10-12)
Shelby College (2 years) (Was kicked out)
Bikini Bottom University (1 year, then quit)
Fanon appearances
Family tree
Victor Krabs (father)
Betsy Krabs (mother)
Redbeard Krabs (paternal grandfather)
Sadie Krabs (paternal grandmother)
Alice Quaterkrab (maternal grandmother)
Ted Quaterkrab (maternal grandfather)
Ben "Penny" Krabs (great-grandfather)
Donald "Dollar" Krabs (great-great-grandfather)
William Krabs (great-great-granduncle)
Alan Quaterkrab (uncle)
Sally Krabs (grandaunt)
Sarah Krabs (younger sister)
Wayne Krabs (wife)
Pearl Krabs (daughter)
Gerald Clawington (brother-in-law)
Kanye, Kenny and Kubert Clawington (nephews)
King Eugene Krabs I (ancestor)
Princess Pearl Krabs I (non-direct ancestor)
Bill Krabs (ancestor)
Prehistoric Krabs (ancestors)
Gallery
Trivia
Community content is available under
CC-BY-SA
unless otherwise noted.