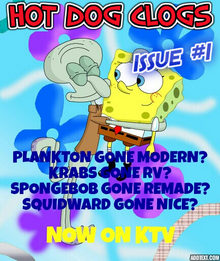 Its Hot Dog Clogs! We got news for everything on SBFW, we also got SBFW episode reviews! So get ready for this first magazine!
Top 6: Spin-Offs
Now, of corse I can't do MY spin-offs, because that would probably be unfair. So these are my top 6 spin-offs (that aren't mine) on this wiki right now.
NUMBER 6: Time Travellers.
Amazing spin-off! I don't usually watch Doctor Who, but this spin-off has kept me entertained all the way to the end.
NUMBER 5: Adventure's From The Deep Blue Sea.
Hey, this spin-off just started, and I actually like it. (even though Squid-Ward Day is sort of a rip-off of Squidville eeeeeeehhhhh) It has a very unique style in writing in it (like Channel Chasers eeeeeehhh) and I'm exited for the Christmas special. (the name of the christmas special is very cheesy eeeeeeeehhhh)
NUMBER 4: Basket Sponge
Doctor Bugs Where The Hell Are You Doctor Bugs Where The Hell Are You
Oh right, the review. This is a nice spin-off... and um...
uh....
erm...
jeff
NUMBER 3: ParodySponge
water sex eeeeeehhhhhh
But seriously, this is a nice spin-off.
NUMBER 2: Bikini Bottom Survival
Even though this show is on hiatus, I still do find this a pretty amazing spin-off. Bikini Bottom going into survival... ITS BIKINI BOTTOM SURVIVAL!!
john cena
NUMBER 1: Livin' With The Squid
Travis has beautiful writing. I'll say it flat out. (even though he can be a pervert sometimes eeeeeehhhhh) Livin' With The Squid proves that.
Bad Stuff Reviews
Oh...
my god...
look what I found.
https://www.youtube.com/watch?v=zqZziG3vn-w
Comment Comeback
This is the column where i "rost" people and I make people ashamed of themselves. Including you.
Enjoy! :D
For this first episode I will be looking at the PLWTR page! There is almost 500 comments on the page and so there has to be a bad one somewhere. I will read 8 comments every episode
COMMENT 1: Calaz: If you don't see any of the episodes, CALM DOWN! I couldn't fit in Season 2 so i had to put in differnt articles.
lol i spelt different wrong
COMMENT 2: Calaz: I think I'm high today.
Im always high. 
COMMENT 3: Kelpy G: uuuuhhh 
uhhhh 
COMMENT 4: Kelpy G:  
THREE MONTHS FA REAL! - Boys Who Cry! (ft. Plankton)
Sample:
Ya know youll know it for jazz It's from Calaz! So there's alot of time to sqweal! Yea..., ITS THREE MONTHS FA-REAL!!!
September 12, 2015
wtf
COMMENT 5: Calaz: OkayOkay, sure.
dat repeat tho
COMMENT 6: Calaz: i always think JKL means Just Kiding Lol
what
COMMENT 7: Kelpy G: I JUST HAVE BRUSHED MY SOUL BY LOOKING INTO HER! THE SLINGS AND ARROWS OF MISFORTUNE HAVE WITNESSED ME A GLIMSE OF MY AMAZING LIFE!
And finally, please read this comment chain that Kelp made. He commented,
May I write Kingshire: The Movie before i bid farewell to PLWTR.
I'm still ticked off for the axe. I spent my whole summer working for the show and then I suddenly get the axe for a little joke? Sheesh!
plz read its so funny.
Conclusion
Yay! Our first issue is complete! If you liked this issue, please spam the comments!
okay don't do that but whatever
Community content is available under
CC-BY-SA
unless otherwise noted.