Rated E - For Ages 6 and Up

This video game is rated E, meaning it may contain content that may be suitable for children ages 6 and up. The content is mild in impact.

POBA 2K15

Updated Cover Art (2016-present)
Developer(s)
¡Laro!
Publisher(s)
2K Sports
Distributor(s)
¡Laro!
Director(s)
SBCA
Designer(s)
Doctor Bugs
Producer(s)
The Imperial Ghost
Lead programmers
SBCA
Doctor Bugs
The Imperial Ghost
Platform(s)
Xbox 360, Xbox One, Wii U, Playstation 3, Playstation 4, iLaro!, and PSVita
Released
September 20, 2015 (SEA)
September 25, 2015 (JPN)
September 27, 2015 (US, EU)
September 30, 2015 (WW)
Genre(s)
Sports
Succeeded by
POBA 2K16 (Add-on)
POBA 2K17 (Successor)
POBA 2K15 is a video game made by Luis TV iLaro! and 2K Sports. It is a video game based on the popular spin-off Basket Sponge.
Gameplay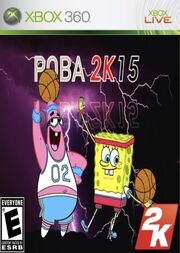 The gameplay is pretty much the same as the very successful videogame franchise, also by 2K Sports, the NBA 2K Series.
Differences
The teams and lineups are all based on the characters from Basket Sponge. All the surroundings such as the arena are all taken from the TV Series.
Exclusives
Xbox One, Playstation 4, and iLaro! 
These versions include console-exclusive players, customizations, and features.
Wii U
Though, the Wii U does not include the features stated above, it does have Amiibo compatibility. Amiibo compatiblity ranges to 15+ players. It has been announced by iLaro! that more Amiibos will be made playable.
Teams and Lineups
Regular
Special Version
The Sperm Whales
Regular
Whale Tim
Whale Joe
Whale Nick
Whale Sam
Whale John
Whale Pat
Whale Jack
Special Version
The Sting Rays
Ray
Rey
Jockey
Korbin Blue
Jason Suckericeberg
Plankton Rei
The Coral Clammers
Ned 
(other unamed players)
Daisy Town Dandelions
Daisy the Sea Donkey
Flats the Flounder
Floyd Tilapia
Max Bangus
New Community Patriots
Rich Goldfish
Ferdinand Swordfish
F. A. E. L. (as per game stats)
El Markuss Cousins
Amabo Barrack
NBA Jammers (Special Version Exclusive)
These players consist of those who appeared in the Basket Sponge series.
LeBron James
Kobe Bryant
Stephen Curry
Steve Nash
Nick Young
See Also
Community content is available under
CC-BY-SA
unless otherwise noted.