The Toon is a fan made character and a crossover character On SpongeBob SquarePants.
Appearance
He appears to be a man covered in a black substance(presumably ink) wearing a Mickey Mouse Mask.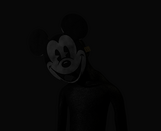 Backstory
The Toon used to be a normal young adult. When he was a kid, he was a huge fan of Disney. He liked the Disney movies, cartoons, etc. He would usually make his room Disney like by collecting Disney Stuff. He would also go to Disney Resorts and Theme parks to enjoy. However one day when he took a trip to Discovery island for a tour, he has encountered a Mickey Mouse toon. When he tried to greet him, he was later killed by him. He was later revived by God and his mind got corrupted, making him very angry and hostile. Now he hates Disney and wants revenge on Mickey and to become a murderer of different toons. In a room where they are created, he has found 4 toon's, Mickey,Minnie,Oswald, and Ortensia. He later killed four of them and when they got revived by God, Toon made Oswald his pet to keep him company and Minnie his Bride because he had a crush on her. One night, Jake Smith got a call from Greg, telling him about The Toon. He then tries to go down and stop The Toon before he kills another Toon. But Jake was successful and ended up in the cage, all the toons were healed by God later. He remains in the cage until the SSA comes to pick him up.
How he ends up in Bikini Bottom?
When The Toon was trapped in the cage for a few days, he tried to escape without being caught, when Jake was off duty during the weekends, he ended up sneaking his way out and instead of coming back for revenge, he goes inside an office with a TV known as " Toon's Office". He goes inside to a random cartoon, he ended up in Bikini Bottom and is forever trapped in here. Now he goes on his own little adventures in Bikini Bottom with Spongebob and his pals until he finds a way to get out.
Personality
The Toon has a vengeful personality, but he can be sweet sometimes as he's sweet to Minnie.
Show appearance
He will be making an appearance in an upcoming crossover SpongeBob Special "SpongeBob Meets The Toon"
Trivia
He's actually a fan made Five nights at Treasure Island Character.
He was put on there for boredom and for an idea.
He might wear a SpongeBob mask in the special.