| | |
| --- | --- |
| | This page has been featured by the SBFW community. |
"We hope to see "moar" from this spin-off!" ― We Want Moar Awards
The We Want Moar Awards (or the WWMAs) are awards only given out by IHeartSpongeBob. They are given out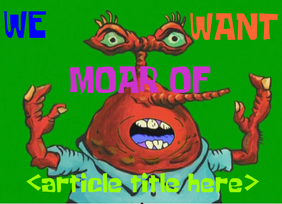 to honour those articles that IHeartSpongeBob thinks deserves the award.
History
The first WWMA was presented on November 24, 2012. They have been handed out a several times since.
Appearance
WWMAs typically have the meme "Moar Krabs" in the background, with a blue "we" to the left, an orange "want" to the right, a purple-pink "moar of" in the middle, and the name of the article at the bottom in lime green. The appearance may change at some point.
Winners
These are the current winners of the WWMAs.
| | | | |
| --- | --- | --- | --- |
| Photo | Article | Date | Notes |
| | Leader Plankton! | November 24, 2012 | |
| | SpongeBob SquarePants: Rocketship Adventures | November 24, 2012 | |
| | SpongeBob SquarePants: The Reality Show | November 25, 2012 | |
| | Absorbent Days | November 25, 2012 | |
| | The Squidward Files | December 22, 2012 | |
| | The New Adventures of the IJLSA | December 25, 2012 | Replaced Moar Award for Spongebob Hero Series. |
| | Pearlorette | January 15, 2013 | First award for Pearlorette. |
| | Bikini Bottom Chronicles | January 24, 2013 | |
| | SpongeBob LovePants | February 4, 2013 | First award for SpongeBob LovePants. |
| | Cyberpunk | February 5, 2013 | |
| | Bikini Bottom Elementary | February 5, 2013 | First award for Bikini Bottom Elementary. |
| | SpongeBob and Jimmy Neutron: The Series | February 9, 2013 | |
| | Evidence | March 16, 2013 | |
| | SpongeBob: Infection | April 6, 2013 | |
| | SpongeBob vs. Aliens | April 6, 2013 | First award for SpongeBob vs. Aliens. |
| | The Silly Adventures of Patrick Star | May 6, 2013 | |
| | Sworn to Secrecy | August 23, 2013 | |